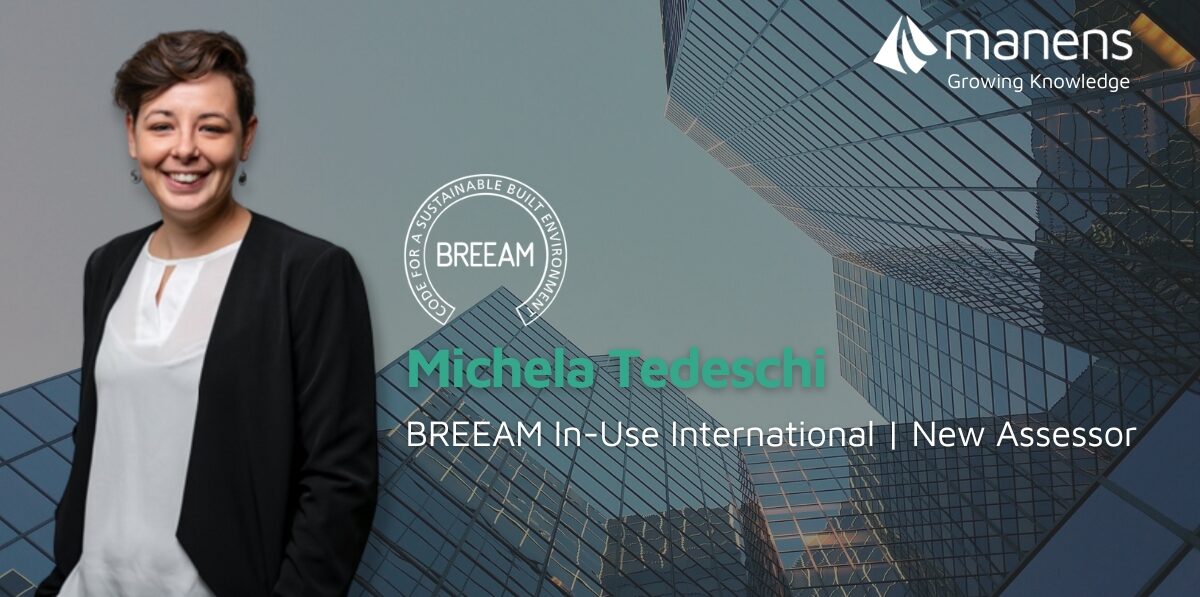 Designing sustainable buildings and meeting high energy standards that can maintain efficiency and performance over time has become the engineering challenge of the future. In this context, we must not forget that existing buildings require upgrades to meet today's sustainability standards. This explains the increasingly widespread adoption of sustainability assessment systems such as LEED and BREEAM Protocols for existing buildings.
Manens provides consultancy on internationally adopted sustainability certifications, thanks to our team of experts qualified to manage the whole certification process. Manens BREEAM Experts today also include Michela Tedeschi, Building Physics & Sustainability Manager at Manens in Verona, who recently obtained the qualification of BREEAM In-Use International New Assessor. Michela is already WELL AP and BREEAM AP; this new qualification gives Manens the opportunity to extend the BREEAM consultancy services package to the "In-Use" category, therefore to existing buildings intended to be certified for the application of higher sustainability standards, following energy and technological upgrades.
BREEAM (Building Research Establishment Environmental Assessment Method) is a building rating and certification system worldwide adopted as one of the most rigorous sustainability standards. Its purpose is to assess the environmental, social, and economic performance during the entire life cycle of buildings: from design to construction, from use to potential dismantling.
Adherence to the BREEAM protocol is voluntary, but there are many benefits from certifying buildings, including:
Energy saving: By improving energy efficiency and resource management, in-use buildings can reduce operating costs and contribute to reducing their environmental impact.
Building enhancement: BREEAM certification can increase the value of buildings and make them more attractive in the market.
Sustainability and social responsibility: BREAAM can demonstrate proactive commitment to reduce the environmental impact of a company starting from its buildings.
Environmental compliance: Manens' BREEAM consulting service helps existing buildings meet regulatory environmental compliance.
Contact us to receive personalised consulting.
Learn more on BREEAM