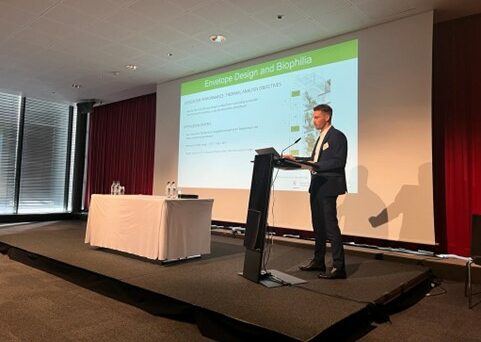 Bern, Switzerland – October 20th and 21st
Our Edoardo Beltrame, Sustainability Specialist of Manens-Tifs S.p.a., participated at the 17th Advanced Building Skins Conference & Expo in Bern, Switzerland presenting part of our/its contribution to the interesting project of the refurbishment of @ENEL HQ in Rome, designed by architect @Antonio Citterio Patricia Viel.
The session included (https://abs.green/2022/refurbishing-triple-glazing-facade ):
"Triple glazing for a high-performance facade": @Alberto Ferrari, @Faces Engineering S.r.l.
"Sustainability by renovation": @Francesco Rivera, @Enel Group
"Designing for complete refurbishment": @Florian Thorwart, @ANTONIO CITTERIO PATRICIA VIEL
"Bioclimatic greenhouse to improve building performance": @Edoardo Beltrame, @Manens-Tifs
@Manens-Tifs presentation, "Bioclimatic greenhouse to improve building performance", illustrated how our Building Physics specialists supported the design of the bioclimatic greenhouses of ENEL HQ in Rome to determine which design configuration amongst 14 different cases achieved the best performance in terms of occupants' thermal comfort throughout the year.
The final design configuration, resulting from the progressive optimisation of passive design options, included side vertical openings (size and operational sequence), solar protective glazing combined with internal roller blinds, Building Integrated Photovoltaics on the glazed roof.
The performance of the passive configuration resulted in 80% to 90% of occupied hours throughout the year within indoor comfort range.
The introduction of a mild-hybrid active system allows to reach comfort conditions for a total of 95% of occupied hours throughout the year.