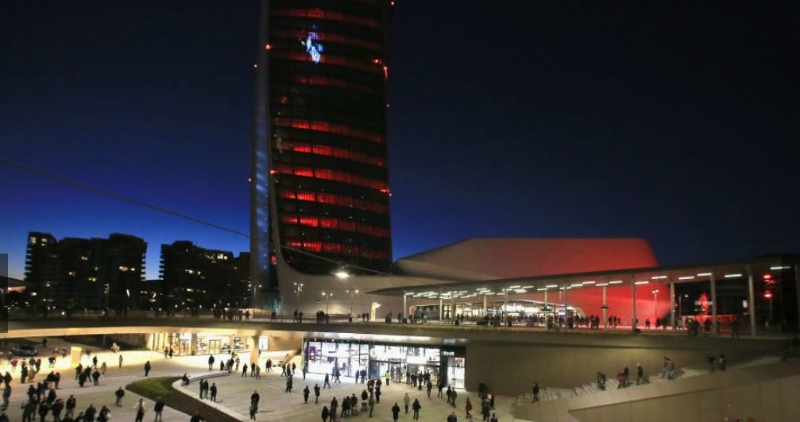 2017-12-11 Two of the main projects developed in the area of Citylife by Manens-Tifs under the spotlight of Milan.
The 30th of November was in fact the opening day of Citylife Shopping District, the largest and most innovative urban shopping district in Italy designed by Zaha Hadid.
For celebrating the event, the light installations of Jimmy Pallas illuminated the "Storto" Tower, always signed by Zaha Hadid.
CityLife Shopping District is the last step of the redevelopment project of the former urban area of ​​ Milan Fair, started over ten years ago and now taking concrete form after a difficult begin.
The district, in addition to the shopping spaces, is composed by three main "clusters":  a food area with 20 bars and restaurants inside and open air; an entertainment area with the multiplex "CityLife Spaziocinema" (1,200 seats) in partnership with Cinema "Anteo"; a health and wellness area with fitness facilities and with an outpatient clinic of the Italian Diagnostic Center.
With 700,000 potential customers, the district is the largest urban shopping center in Italy; moreover it is estimated that it will create 800-1,000 new jobs.
The entire area with its 360,000 sqm includes, in addition to the shopping district, three iconic towers designed respectively by Arata Isozaki, Zaha Hadid and Daniel Libeskind. The first one, already finished, will be the new  headquarters of "Allianz"; the second one will be completed next year and will host the headquarters of "Generali", while the third one is finally under construction.
Manens-Tifs is proud of its contribution, as designer of a large part of MEP systems, to the realization of this work, developed according to the most evolved concepts of environmental sustainability.
For more information:
http://www.corriere.it/economia/17_novembre_29/apre-citylife-attesi-7-milioni-visitatori-dara-lavoro-mille-persone-ca64b188-d519-11e7-85e2-6290f9ff2b20.shtml
http://video.corriere.it/torre-hadid-se-non-siete-riusciti-ancora-vederla-ve-facciamo-scoprire-noi/fbaf0d78-b3d2-11e7-b73f-b517701f3ad7
https://www.youtube.com/watch?v=3PFxRm4cjAM&feature=youtu.be
http://milano.repubblica.it/cronaca/2017/05/17/news/milano_in_autunno_apre_lo_shopping_district_acquisti_e_film_tra_i_grattacieli_di_citylife-165609118/?ref=RHRS-BH-I0-C6-P10-S1.6-T1#gallery-slider=165605728