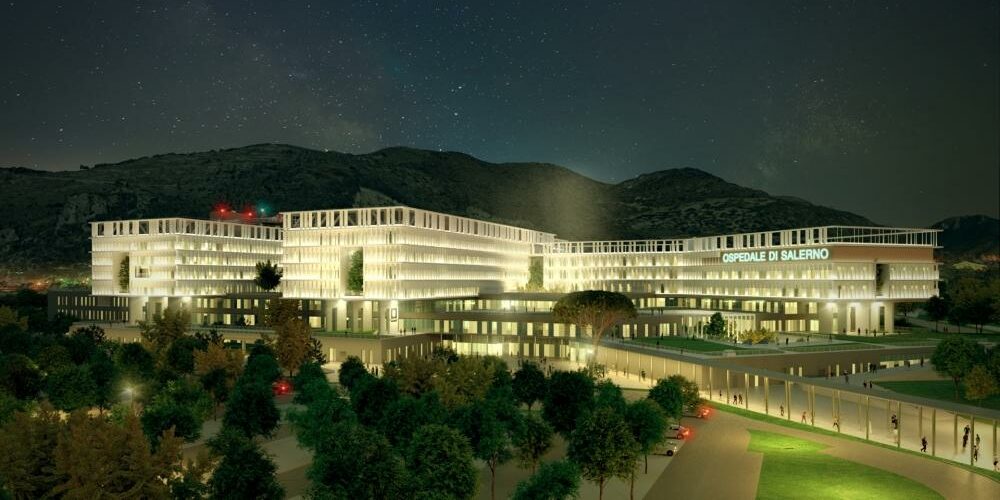 The health authority of Padua (ULSS 6 Euganea) has entrusted Manens as work coordinator and survey of the new patients' ward of Cittadella Hospital, Padua. The new facility, with a surface area of about 26,000 sq.m. and an overall project value of almost 50 million euros, will complete the reconfiguration project of the Hospital Complex, involving the reconstruction of some of the existing halls (already started with the rise of a new emergency hall). The Project responds not only to the most current healthcare requirements but has also been designed following the pandemic emergency experience, especially considering the issue related to flow and pathway and the design of air-conditioning systems.
Of great relevance is also the project assigned by the Salerno Local Health Authority for the site management of the new 'Ruggi' hospital. The complex, a 350 million euro investment, will have approximately 700 beds and will be developed in an area of about 150,000 sq. m. This is one of the biggest hospital construction projects to be completed in Italy in the next few years, with cutting-edge features in terms of organisation and function, technology (seismically isolated structure), and energy and plant engineering (NZEB – Near Zero Energy Building).
Click here and watch the preview of the new Ruggi Hospital.
These two assignments of great commitment and responsibility, confirm the company's leadership in the healthcare sector. Among the several projects ongoing in Italy, Manens is involved – as project and site manager – in the building of two Medical Cities in Saudi Arabia, which are among the largest hospital construction projects being carried out in the world today.