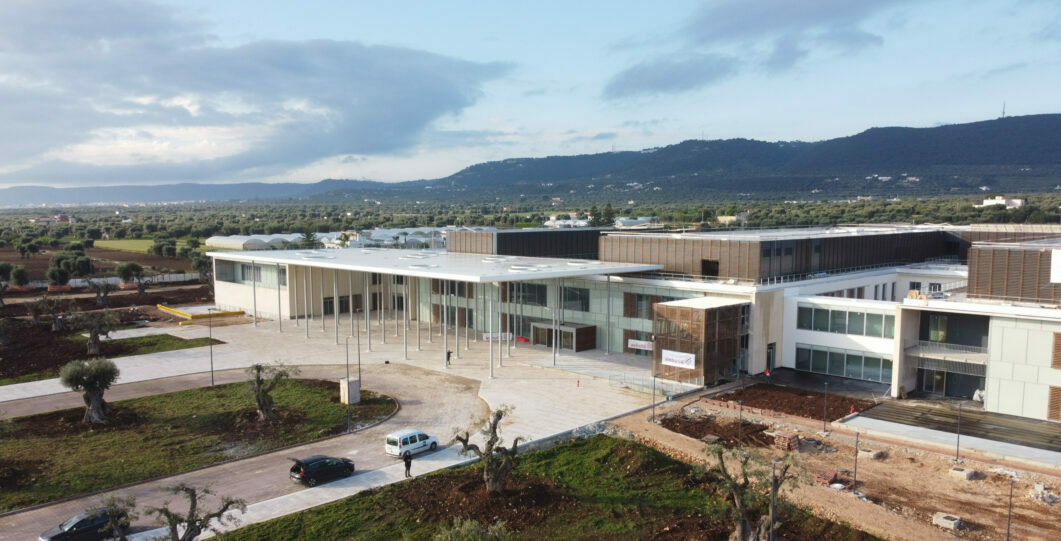 After 4 years of work, the Monopoli-Fasano Hospital, located in Puglia, Southern Italy,  will soon be completed, despite the critical issues brought by Covid. The new facility, a project by Studio PINEARQ, Barcelona, in team with Manens and Studio Mauro Sàito Architect and executed by WEBuild, might be officially presented by the end of July 2023.
Yesterday morning, the President of the Puglia Region Michele Emiliano visited the construction site, where 80% of the work has been completed, including 134 wards and the remaining ones nearing to be delivered.
Thanks to its location – between Bari and Brindisi – the Monopoli-Fasano hospital will play a strategic role as an emergency and urgent care facility for the Puglia Region, allowing it to serve an area of approximately 260,000 inhabitants. The facility will have 299 beds and 9 operating rooms and will provide medical and surgical services, including intensive care, diagnostic support services, an emergency room and helicopter rescue service.
"The new hospital in Monopoli will be one of the most beautiful in Italy, designed to be respectful of the environment and the landscape," says President Emiliano, considering the facility's low energy impact – developed with innovative materials and sustainable technologies and designed to be powered by renewable energy – and to its perfect location in the territory, which makes it a real 'hospital within a park'. Indeed, the Hospital is located within an olive grove with centuries-old trees that have been relocated around the facility in order to preserve the landscape.
Innovation and sustainability can be seen throughout the design project: in the complexity of the environmental inclusion of the new buildings, responding to bioclimatic design criteria (ventilated walls, accumulation and transformation of solar energy and rainwater); in the combination of traditional and contemporary materials (stone, wood and steel); in the recovery of craftsmanship reinterpreted for industrial production. Lastly, the well-being of the hospital's employees was not neglected: a kindergarten will be also built by restoring an existing structure.
Check the work in progress video