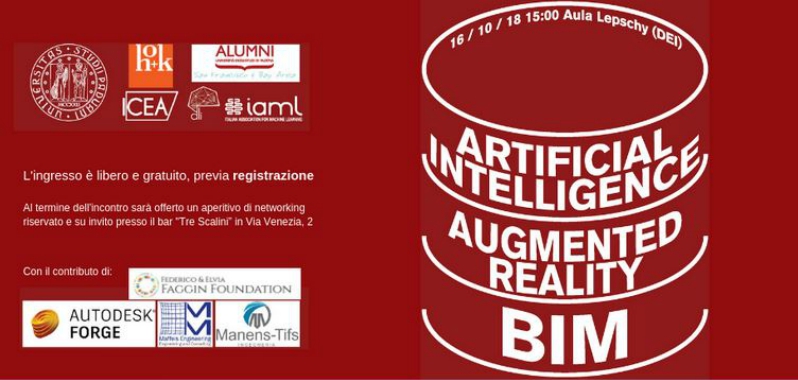 2018-10-15 The BIM/AR/AI meeting will be held on the 16th of October at 3.00 pm in Padua, at the lecture hall "Aula Magna A.Lepschy", located in Via Gradenigo 6/B, Padua.
The meeting will be an opportunity to know the state of the art of BIM (Business Information Modeling), of the new AR methodologies (Augmented Reality) and of AI (Artificial Intelligence), in correlation with their application in civil engineering design.
Daniel Carta and Gabriele Lantini (respectively BIM Manager and Deputy BIM Manager of Manens-Tifs) will be speakers at this international meeting,  promoted by the Civil and Environmental Engineering Department of the University of Padua, in partnership with Chapter San Francisco & Bay Area of  Alumni Association, HOK, DLI (Deep Learning Italia), IAML (Italian Association for Machine Learning) and with the contribution of Manens-Tifs, Autodesk, Maffeis, Faggin Foundation.
For more details: https://www.alumniunipd.it/eventi/eventi/evento-DEI-HOK-2018