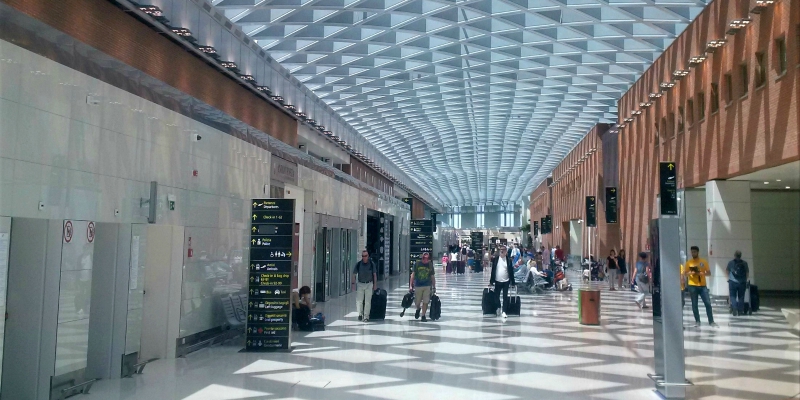 The inauguration ceremony of the first extension lot of the passengers terminal of Marco Polo Airport in Tessera (Venice) was held last Saturday, 17th of June. Graziano Delrio (Minister for Infrastructure), Vito Riggio (Chair of ENAC) and Enrico Marchi (Chair of Save SpA), took part to the event.
This work is a part of the investment plan carried on by Save SpA in these last years, aiming to consolidate the role of the Venetian airport as the third Italian intercontinental airport pole (after Rome and Milan).
The project concerns the extension of the arrivals and departures halls of the existing terminal for a total surface of about 11,500 m2 and including also the realization of a glazed cover, 250 m long and 25 m wide, at departures level.
Manens-Tifs – in partnership with OneWorks Spa (architectural and structural designer of the work) – has designed all the MEP systems, given acoustic consultancy and developed all the issues concerning energy and environmental sustainability during all stages of design and execution of the work.
But the involvement of our Company does not stop with this intervention. The project of the second extension phase is going on, with the aim of doubling the passengers terminal in the next five years; Manens-Tifs is proud to be an active participant in the realization of this infrastructural work of international significance and of vital importance for the local and national economy.
For more information:
http://www.veneziatoday.it/cronaca/terminal-marco-polo-inaugurazione-17-giugno-2017.html
http://nuovavenezia.gelocal.it/venezia/cronaca/2016/11/08/news/aeroporto-di-venezia-marco-polo-ampliato-inaugurazione-a-maggio-1.14381337?refresh_ce
http://www.ilgazzettino.it/nordest/venezia/inaugurato_ampliamento_marco_polo_70_milioni-2509626.html
http://corrieredelveneto.corriere.it/veneziamestre/notizie/cronaca/2017/17-giugno-2017/aeroporti-marco-polo-venezia-apre-nuova-ala-11mila-metri-quadri-2401694376907.shtml