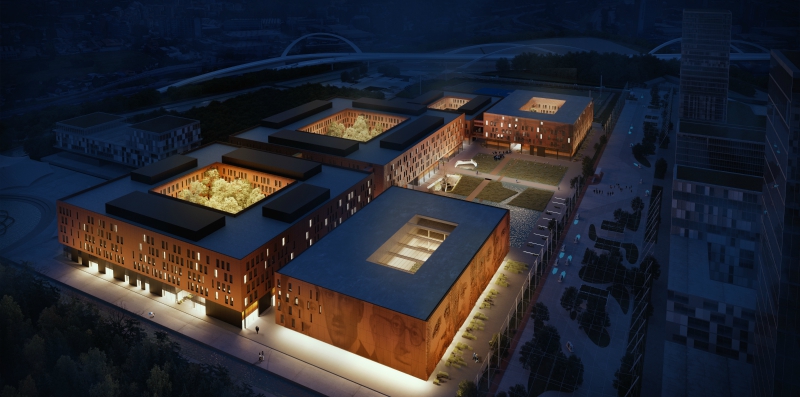 On December 11th , it has been officially awarded the tender for the construction of the new University Campus in MIND – Milano Innovation District, which will be located in the former area of Expo 2015.
The joint venture awarded the tender, called by the University of Milan, is led by Lendlease Infrastructure (group leader) with Colombo Costruzioni, C.M.B. Società Cooperativa Muratori e Braccianti di Carpi and CoopService.
The project of the new campus for the scientific faculties of the University of Milan will be realized by the group composed by Starching (architectural design), Manens-Tifs (systems design), Redesco Progetti (structural design), Emilio Pizzi Team Architects (space planning), Geologist Pietro Simone (geological report), in collaboration with CRA-Carlo Ratti Associati studio, who defined the overall architectural concept.
The new hub, which will cover more than 190,000 sqm, will wrap together multidisciplinary scientific expertises in a single campus in MIND, equipped with research and technological infrastructure of the latest generation. It will strengthen the synergies between different areas, encouraging interaction with an ecosystem strongly oriented towards innovation, in contact with the laboratories of Human Technopole and with a network of companies that are structuring themselves according to functional formulas to interact with research facilities on major innovation projects.
Manens-Tifs, which will develop the design of all the MEP systems of the new Universitary Campus, is very proud of this new challenge that, on the one hand, underlines once again the skills and strenghtens the positision of the Company in the sector of university building design and, on the other hand, represents a new positive boost through this difficult time of adversities, due to the pandemic situation the whole world is experiencing.
https://www.unimi.it/it/ateneo/la-statale/tra-passato-e-futuro/progetto-campus
https://lastatalenews.unimi.it/universita-statale-milano-sara-lendlease-realizzare-campus-scientifico-mind