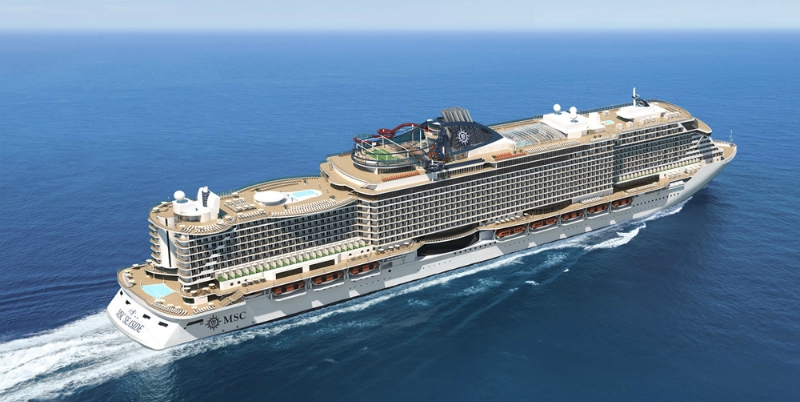 2017-11-30 MSC, the largest privately-owned company of the world, will present today in Trieste the new giant ship "Seaside", before leaving for Miami where the real "naming ceremony" will take place and where the ship will have its permanent operating base.
The official launch took place yesterday at Fincantieri's shipyard of Monfalcone, at the presence of the President of the Republic Sergio Mattarella.
"Seaside", the first of a series of 11 cruise ships launched by MSC until 2026 with a $10 billion investment,  will immediately become the flagship of MSC because of its unique structural and technological characteristics.
With a tonnage of 154 GRT, a length of 323 meters, a breadth of 41 meters and an overall height of 67 metres, the "Seaside" will accommodate on board 5,179 passengers in 1315 cabins, 14 grand suites, 111 cabins for family groups and 28 luxury suites.
Manens-Tifs has developed the entire HVAC systems design of the ship and provided assistance during the construction phases.
For more information:
http://www.lastampa.it/2017/11/30/societa/viaggi/mondo/msc-seaside-la-pi-grande-nave-realizzata-in-italia-0T2OV1WUZo3e1GQ8KOoM1N/pagina.html
http://www.ilsole24ore.com/art/notizie/2017-11-29/consegnata-msc-seaside-piu-grande-gigante-mare-costruito-italia-145958.shtml?uuid=AEJMLMKD&refresh_ce=1
https://www.msccrociere.it/it-it/Informazioni-Crociera/Navi-Da-Crociera/MSC-Seaside/Programma.aspx