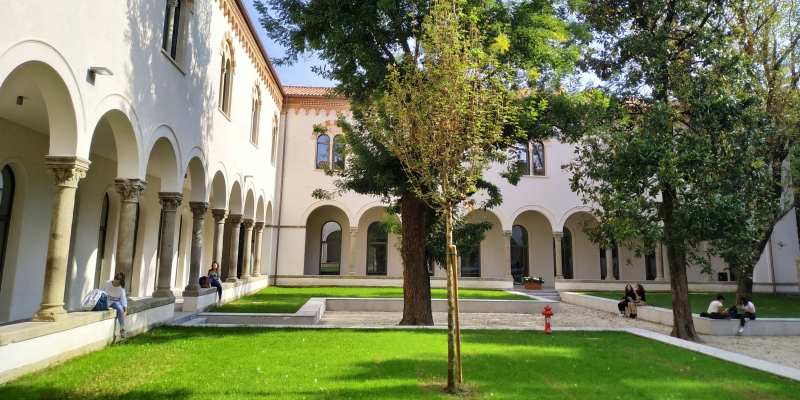 On the 30th of September, the University of Padua inaugurated its New Humanistic Pole, located in the requalified area of the former geriatric hospital, between Via Beato Pellegrino and Via Vendramini.
Thanks to this important intervention, the complex of former geriatric hospital has been returned to the city of Padua and now houses several departments of the Humanistic Pole and a new library, which has unified the cultural heritage of other University library spaces located in the city.
The opening ceremony was attended by the Mayor Sergio Giordani, the Rector Rosario Rizzuto, the Former Rector Giuseppe Zaccaria, the Director of the Department of Linguistic and Literary Studies Anna Bettoni,  the President of the School of Human and Social Sciences and of Cultural Heritage Marina Bertoncin and the Pro Rector for Artistic Heritage, Museums and Libraries Giovanna Valenzano.
The works for the realization of the New Humanistic Pole involved the requalification of 13 existing buildings and the construction of 5 new ones, with a total GFA of about 23,000 m² and a construction volume of about 105,000 m³, on an area of about 15,000 m².
The oldest buildings of the Pole, dated nineteenth century, house the new library, articulated on 10,000 linear meters of shelves on an area of about 4,200 m², with 460 seats for reading and consultation activities.
On the other hand, the twentieth century building overlooking Via Vendramini and the new buildings house the didactic functions of the complex, with 15 classrooms of different sizes, an auditorium, a conference room and several offices.
Manens-Tifs has played a central role in the realization of the work, coordinating the whole project and developing the preliminary design of all MEP systems and then, during the works, coordinating also all the work supervision activities.
For more details please visit:
https://manens.com/collections/
https://ilbolive.unipd.it/it/event/inaugurazione-nuovo-complesso-beato-pellegrino
https://www.padovaoggi.it/attualita/nuovo-polo-via-beato-pellegrino-tre-rettori-padova-30-settembre-2019.html