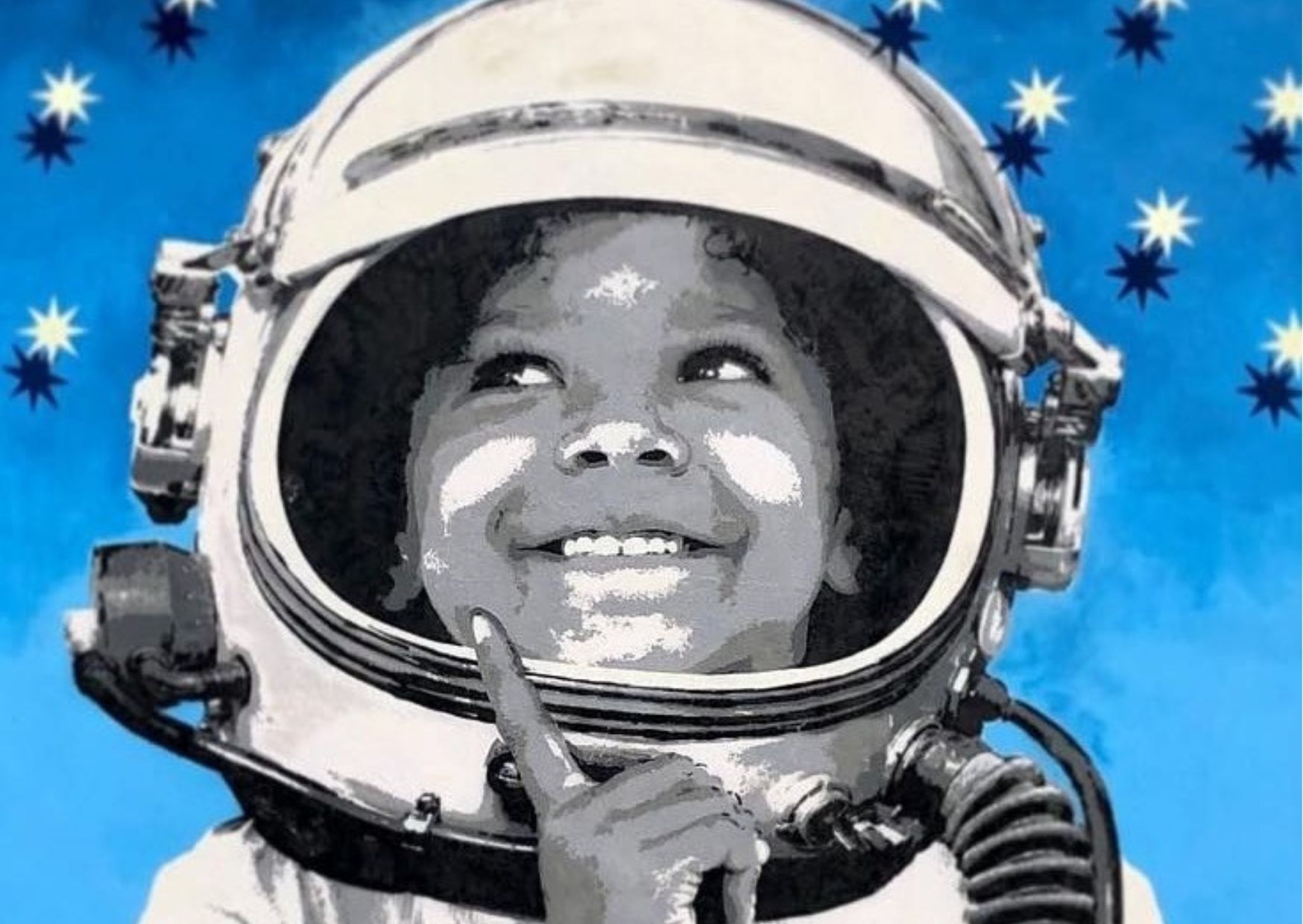 Un bambino indossa un casco da astronauta volgendo uno sguardo sognante al cielo stellato.
Così Alessio-b rielabora la sua opera "Look at the stars", con chiaro riferimento alla volta celeste di Giotto per la Cappella degli Scrovegni.
È un invito alla curiosità e a spingerci oltre i nostri confini, come diceva Stephen Hawking "look up at the stars and not down at your feet".
"Si conclude un anno segnato da eventi traumatici; iniziato sotto i migliori auspici grazie al successo della campagna vaccinale e all'ottimismo generato dalla ripresa economica innescata dal PNRR, si è rapidamente trasformato con lo scoppio della guerra in Ucraina, a cui sono seguite l'esplosione dell'inflazione, le difficoltà di reperimento e il rincaro delle materie prime, i problemi di approvvigionamento energetico, con tutte le conseguenti ripercussioni dei vari settori dell'economia.
Il settore delle costruzioni, strettamente connesso con l'ambito dell'ingegneria in cui operiamo, nonostante le difficoltà, ha registrato un andamento positivo, che consente di traguardare con fiducia e ottimismo il nuovo anno.
Per Manens Tifs e Steam, dopo il perfezionamento dell'operazione di integrazione societaria avvenuta alla fine dello scorso anno, il 2022 è stato un anno di transizione e di conoscenza reciproca delle due realtà: conoscenza delle persone, delle reciproche conoscenze e specializzazioni, delle modalità operative; ma soprattutto un anno in cui abbiamo superato le normali diffidenze iniziali e si è accresciuta la fiducia reciproca condividendo i valori su cui si era basata l'integrazione: professionalità, conoscenza e innovazione, crescita e formazione dei collaboratori.
Abbiamo anche posto le basi per lo sviluppo di un piano strategico pluriennale per ridisegnare il futuro della società, proiettandola in una dimensione internazionale.
Ora il 2023 si prospetta come un anno cruciale: da gennaio sarà operativa la fusione e si dovrà realizzare una effettiva integrazione delle diverse funzioni e strutture societarie, unificando anche strumenti e procedure operative; nel contempo le numerose e importanti acquisizioni dell'anno trascorso richiederanno un forte impegno sia dal lato del potenziamento dell'organico e dell'organizzazione interna, sia dei rapporti con i clienti per rispondere e soddisfare gli impegni assunti.
Sarà quindi un anno fondamentale per le nostre ambizioni: consolidare il ruolo di leadership attuale e creare le condizioni per una ulteriore fase di espansione, conservando sempre forti quei valori di "passione" e "creatività" che ci hanno guidato fino ad oggi.
L'augurio a tutti i soci e collaboratori di Manens-Tifs e Steam, clienti, consulenti e amici che, nonostante le difficoltà, le paure, le ansie di questo periodo storico che stiamo vivendo, sappiamo essere ottimisti, fiduciosi nel futuro e capaci ancora di sognare …"
Giorgio Finotti
(Source & Credits Alessio-B, Biennale Street Art)