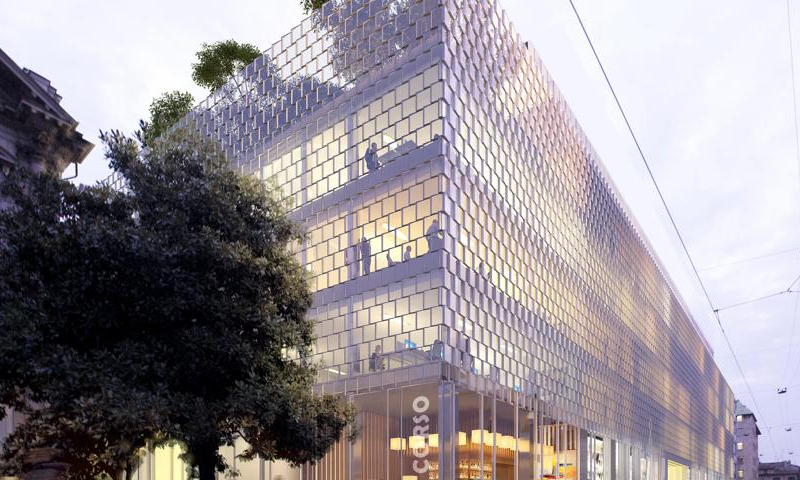 For some years now, Manens-Tifs has been involved, through engineering design, in the processes of regeneration of degraded and abandoned building heritage in the area of Milan.  Opposing the abandonment of buildings through the renovation of complexes otherwise destined to ruin, the Company continues to pursue its goals in terms of sustainability and building recovery.
Alongside CityLife, that represents one of the largest redevelopment projects in Europe – in further expansion with the new 'CityWave' building designed by BIG-Bjarke (https://manens.com/2020/07/09/manens-tifs-will-develop-the-new-iconic-citylife-project-engineering-services-in-milan/) –  and MIND Scientific Campus of Milan University (https://manens.com/2020/12/15/manens-tifs-will-develop-the-design-of-the-new-university-campus-in-the-district-of-mind-milan/) which will be an innovation district, Manens-Tifs's redevelopment activities extend to many other projects.
– CORSO ITALIA 23 – MILAN (Client: Allianz S.p.a. | Arch. SOM – Skidmore Owings & Merrill)
The requalification of the former Allianz Headquarters represents an important opportunity for fostering a new workplace district in the heart of Milan. The complex, with a surface of 45.000 m², consists of three main buildings that surround two internal courtyards, in an area between Via Sant'Eufemia, Corso Italia and Via Santa Sofia, within the nucleus of ancient formation (NAF) of Milan.
The design objectives were therefore identified applying the smart building concept, leading to nearly Zero Energy Building (nZEB) and excellent comfort level of interior spaces.
Plant systems also will play a key role in the health and well-being of the occupants. The project has taken all these aspects into account in order to achieve a state-of-the-art solution, such as geothermal heat pumps, multi-purpose heat pumps, free cooling for air handling units, air source heat pumps, enthalpy wheels in air handling units radiant ceiling, direct exchange of groundwater with pre-heating (and cooling) batteries within the air handling units and photovoltaic systems.
By pursuing WELL® and LEED® certifications, the project maximises the sustainability and well-being approach of the entire base building area.
– CORSO ITALIA 19 – MILAN (Client: COVIVIO S.A | Arch. Paolo Asti) 
The project represents the riqualification of the historic headquarters of ASL – ATS Metropolitan City of Milan, bound by the Authority of Archaeological heritage, Fine arts and Landscape; it's a complex of about 12.500 m² of buildings from various eras that overlooks also Piazza Sant'Eufemia.
The aim of building redevelopment is to create new commercial spaces and offices, with a view to environmental sustainability, the well-being of the occupants and multimedia connectivity to digital services, by implementing LEED, WELL and WIREDSCORE certifications.
Particular attention was also paid to the implementation of HVAC systems that integrate the most advanced and efficient air sanification technologies for the mitigation of biological risk. High energy efficiency and low CO2 emission air conditioning systems were also adopted, all supervised by a centralized system (BMS).
– 'VIA LORENZINI' COMPLEX – MILAN (Client: COIMA SGR | Arch. KPF – Kohn Pedersen Fox Associates PC)
Coima SGR has acquired Boehringer Ingelheim Group Italy's headquarters in Via Lorenzini in Milan.
The complex consists of 7 buildings with a total surface of about 19.500 m²  located in front of the Scalo di Porta Romana, next to Prada Foundation. Based on Kohn Pedersen Associates architects design, the strategy for the asset is a complete demolition and reconstruction of buildings at Lorenzini 8, conservative renewal for Lorenzini 10 and extraordinary maintanance for Lorenzini 12, with the aim to create a prime office hub with landscaped areas and flexibility to integrate retail or Food & Beverage spaces at ground floor. The new and refurbished buildings are entitled to be sustainable and efficient, flexible and suitable for one or more tenants. The buildings will be LEED, WELL and WIREDSCORE certified.