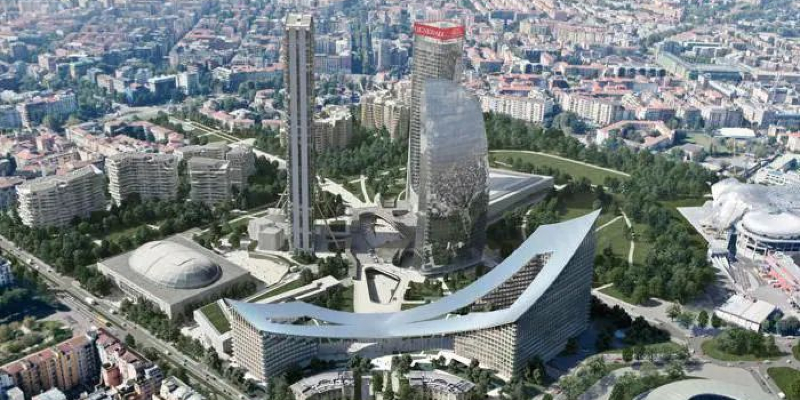 On the 8th of September was symbolically launched the New CityWave's works.
This is the last piece that completes the former trade fair redevelopment, with an operation of 170 M€ of work, for reaching the delivery of the project by 2025.
The 230,000 sqm mixed-use building marks the final step towards the completion of the 366,000 sqm CityLife district.
The building will be powered exclusively by renewable sources, representing the first office building to exceed zero impact and it pursues LEED Platinum certification. The photovoltaic panels, covering the East and West buildings, will be the largest photovoltaic park in Milan and one of the largest urban photovoltaic parks in Italy, with an area of approximately 11,000 sqm occupied by PV panels, capable of providing an estimated energy production of 1,200 MWh per year, thanks to an installed capacity of 1,3 MW. In addition, the building is designed to consume 45% less energy than the standard, thanks to solutions such as the thermal use of groundwater, with a saving of 520 tons per year of CO2.
Manens-Tifs is delighted to work with BIG – Bjarke Ingels Group and Generali Real Estate providing MEP engineering and sustainability consulting for this exciting landmark project.
For more details:
https://www.ilsole24ore.com/art/milano-via-lavori-citywawe-quarta-e-ultima-torre-orizzontale-citylife-AEVZASh
https://milano.repubblica.it/cronaca/2021/09/08/news/citywave_citylife_fonti_rinnovabili_posa_prima_pietra-316963316/