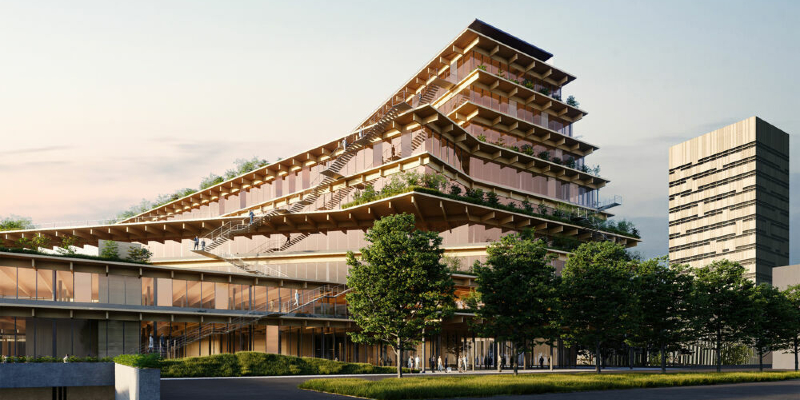 Following the tender among world-famous architects, Europa Risorse has chosen Kengo Kuma for the new office development in the former Rizzoli area. The new visionary project, called "Welcome", is inspired by the Japanese Master's philosophy of close integration between architecture and nature.
"Welcome's" impressive construction site will provide individuals with the access to the most sophisticated technological and digital requirements, as well as effective measures to protect people from future pandemics.
A philosophy that ties perfectly with Manens-Tifs's concept that, in addition to the MEP systems design with particular attention to COVID mitigation recommendations, will carry out Building Physics (Whole Building Energy and Daylight Performance) and Lighting Design activities.
The project will consist of a structure of more than 50,000 sqm of GLA for office use which will be characterized by zero CO2 emission technologies, renewable energies, consumption control, groundwater recovery whose certification targets are WELL and LEED Platinum.
This is one of the most biophilic and 'deepest' green projects Manens-Tifs is currently working on with outstanding sustainability (#LEED) and wellbeing (#WELL) performance driving the zero operational emissions low embodied carbon design.
For more details:
https://www.ilsole24ore.com/art/kengo-kuma-firma-l-edificio-futuro-zero-emissioni-tanto-verde-e-benessere-ADytsZNB?refresh_ce=1
http://www.ppan.it/stories/welcome-la-natura-entra-nei-luoghi-di-lavoro-con-la-firma-kengo-kuma/