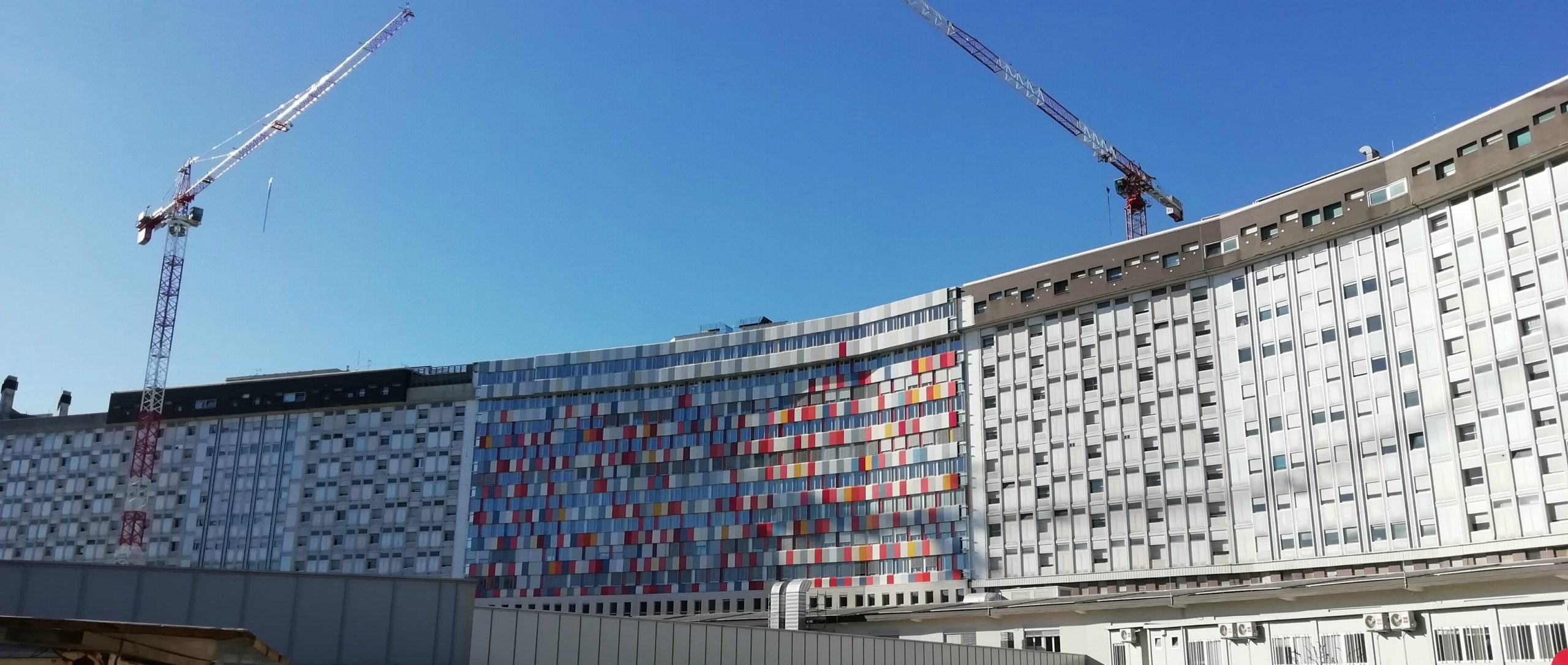 After the construction of the New Avant-corps and the renovation of the existing Avant-corps, completed and activated in 2017, the second phase of the hospital redevelopment was completed in January and, at the same time, began the relocation of the various wards, in order to progressively clear the areas and start the third phase of works.
San Gerardo Hospital is one of the most important health centres in Lombardy Region and its redevelopment, with a total amount of works of more than 200 M€, currently represents one of the most important intervention in the sector of public constructions in Lombardy.
It's a great and complex work that involves the complete renovation of the entire buidling structure, including the seismic adjustment with the reinforcement of floors and pillars, the total renovation of the internal premises, of the building finishes and of the plant systems, as well as the implementation of lift systems in order to ensure, on the one hand, a better subdivision and functionality of the sanitary pathways according to their specific functions and, on the other hand, the adaptation of the building to fire prevention specifications.
The renovation works has taken place by dividing vertically the existing monoblock in 3 operative phases (Sector B, Sector C and Sector A), to be developed without hindering in any way the functionality and the continuity of operation of the various departments and also without any reduction of the number of beds, ensuring all the necessary safety and reliability conditions.
In particular the phase 2, concerning the central part of the monoblock characterized by a complex situation of mixture of plants due to the several modifications  occurred  through the years, was preceded by a relevant preliminary activity aimed at reordering and sectioning the electrical and thermomechanical systems, in order to:
clear the intervention areas from the existing plants and make them safe for streep out and demolition activities;
guarantee the operative functions of the adjacent departments and relating to sectors A and C.
This phase, now completed, includes:
ground floor for MRI diagnostics (two 1.5T MRIs), X-ray diagnostics (one CT scan and one skeletal thoracic scan) and paediatric outpatient clinics;
first floor for endoscopy, bronchoscopy and cystoscopy departments;
from second to eleventh floor for inpatient departments of the following wards: emergency medicine and gastroenterology, general medicine and geriatrics, otorine and maxillofacial, oncological gynaecology and senology, cardiology, pneumology and UTIR, emergency surgery, obstetrics and paediatrics.
Phase 2 includes also the construction of the main plant stations in the basement.