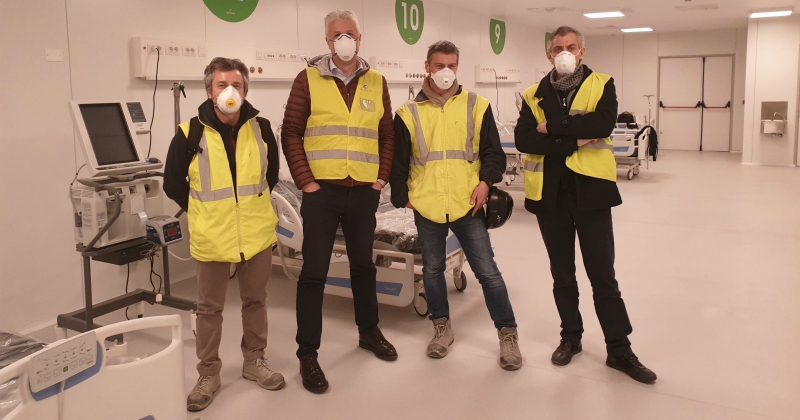 Today we are very proud and want to say thank you to Manens-Tifs's team that has been working continuously for the last 20 days, taking shifts without rest, at the design of all the plant systems of the new hospital facility dedicated to the COVID 19 emergency in Milan, providing also the site assistance during the construction phase of the structure.
We should call it a mission, not only a project, made possible by the convinced participation of each collaborator of the group; the design activities have been carried on simultaneously with the realization of works, with a continuous interface with our team on site.
This is how a simple idea, that 20 days ago seemed something impossible considering the tight timing, has become real.
The new facility, with a surface of 21,000 sqm and more than 200 intensive care beds, a diagnostic area with CAT scan and X-ray, service areas for changing rooms, storage, medicine distribution, was inaugurated by the Authority on the 31st of March.
The plant systems realized for the new hospital facility include an electric cabin MV / LV and an electrodiesel emergency station with 3 generating sets, UPS stations, medical gas systems including also 3 O2 storages with single capacity of 30,000 litres, separate AHU for each intensive care module with cooling coil coupled to a direct expansion system, hydronic and aeraulic networks, electricity grids, structured cabling, etc.
We are very proud for this work, believing the efforts done can help to mitigate this moment of deep emergency and difficulty in our Country.
For more details:
https://www.youtube.com/watch?v=OCQGAdWCGkU
https://www.varese7press.it/2020/03/31/video-servizio-su-inaugurazione-ospedale-fiera-milano-terapia-intensiva-pazienti-covid-19/?print=print
https://www.open.online/2020/03/31/coronavirus-ecco-lospedale-di-fiera-milano-in-settimana-accogliera-i-primi-24-pazienti-in-terapia-intensiva-il-video/